Words To Explore: The Writings Of A.H. Scott - Welcome
Words To Explore: The Writings Of A.H. Scott - Welcome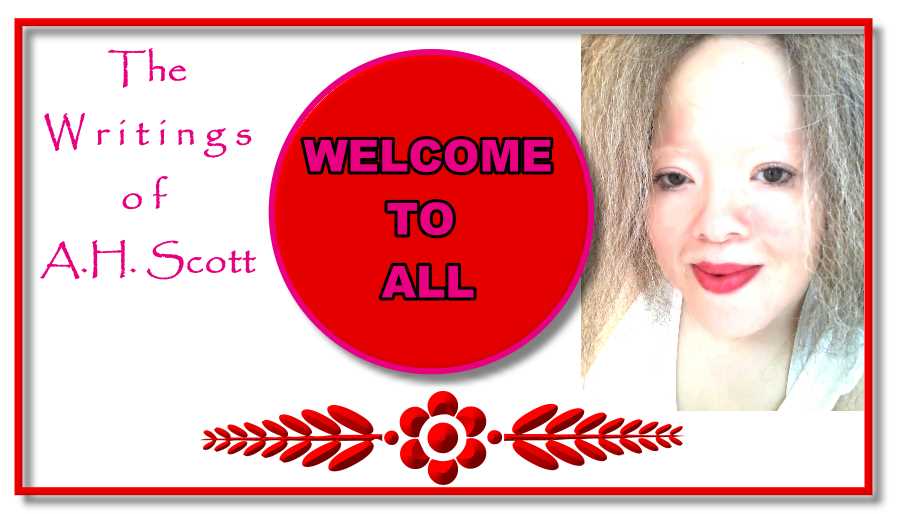 ---
Hi there, Everybody!
Welcome to my happy, little crumb of cyberspace!
So, let's get right down to it.
On this page, you'll find my philosophy and a glimpse about me. The casino of life may be many things. But, I think the wheel of imagination & inspiration has a way of touching (almost) everyone, as they experience this madcap & mesmerizing journey we call life.




---

---

---



A.H. Scott: The Philosophy Behind My Writing -

"As an author, I enjoy letting my characters and plots that I've created get inside of the reader's heads. I make a promise to anyone that rolls the dice and catches a glimpse of my work that you will never be bored. Your eyes, mind and soul shall be thrilled. This is my bond to you, the reader: No simplicity ever from A.H. Scott. Always complexity is my main intent on anyone who reads my work." - A.H. Scott



---

---

---



About A.H. Scott: Behind the Pen -

I've been writing short stories and poetry since childhood.

Draped in freedom's spirit, I'm a scribe of thoughtful reflection & sizzling sensuality. Between deft digits against keyboard and pen to paper, my style rips through mediocrity and transforms the tepid into tantalizing.

My writing and art is just an extension of the passion I feel for living. Now, some may snicker or say how silly that statement comes off as being. Yet, for me, the way I see it; every day alive can bring something new into one being's heart and soul. Art can change the world. Be it through words, or images. Sometimes, a mixture of both can get a person to think and ponder the larger meaning of being beyond just the skin which we all live within. It could be something as simple as a single tear on a beach. Or, maybe it can be as enormous as the universe beyond the stars. It all depends on where you sit in your own psyche.

I am A.H. Scott - author of fiction, poetry, essay and commentary.


---
---
---
Home / Welcome / Novels / Novellas / Short Stories / Collaborations I / Collaborations II / Poetry / Reviews / Links
---
---
My Favorite Web sites
Angelfire Home Pages
Free Web Building Help
Angelfire HTML Library
htmlGEAR - free polls, guestbooks, and more!

My Favorite Things About Angelfire